Abhijit Majti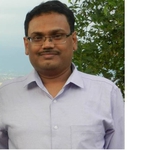 Abhijit Maiti
Associate professor
abhijit.maiti@pe.iitr.ac.in
8859773305
Areas of Interest

Polymeric Materials, Multifunctional Polymeric & Inorganic Composite, Membrane Synthesis & Applications , Water Treatment, Treatment of Contaminated Groundwater and Wastewater, Arsenic Remediation, Adsorption
Professional Background

| From | Period | Position | Organisation |
| --- | --- | --- | --- |
| 2019-01-01 | Ongoing | Associate Professor | IIT Roorkee |
| 2014-01-01 | 5 years | Assistant Professor | IIT Roorkee |
| 2011-01-01 | 3 years | Postdoctoral Fellow | University of Alberta |
| 2013-01-01 | 1 year | Adjunct Faculty | University of Alberta |
| 2000-01-01 | 2 years | Assistant Chemical Engineer | Kesoram Rayon Industries |
| 1998-01-01 | 2 years | Quality Control and Product Development Engineer | Bharat Margarine Limited |
Multiple Posts

| From | Period | Position | Organisation |
| --- | --- | --- | --- |
| 2014-01-01 | 2 years | Additional OC | IIT Roorkee,Saharanpur Campus |
| 2015-01-01 | Ongoing | OC Electrical SRE Campus | IIT Roorkee |
| 2015-01-01 | Ongoing | OC Water Works SRE Campus | IIT Rorrkee |
Honors and Awards

| Award | Institute | Year |
| --- | --- | --- |
| Best Poster Award in the International Conference on Nano Science and Technology (ICONSAT-2010) | IIT Bombay | 2010 |
| Aqua Foundation Excellence Award in the Category Academic Excellence Individual | Aqua Foundation | 2018 |
| National Scholarship | Government of India | 1995 |
| Bharat Vikas Award | Institute of Self Riliance | 2019 |
| Session Chair | 5th International Conference on Environment-2015, Aug, 18-19, Penang, Malaysia | 2017 |
| Session Chair | CHEMCON-2015, Dec, 27-30, IIT Guwahati, India | 2015 |
Educational Details

| Degree | Subject | University | Year |
| --- | --- | --- | --- |
| Ph.D. | Chemical Engineering | IIT Kharagpur | 2010 |
| M.Tech | Chemical Technology | Calcutta University | 2004 |
| B.Tech | Chemical Technology | Calcutta University | 1998 |
| B.Sc (Hons) | Chemistry | Calcutta University | 1995 |
Sponsored Research Projects

| Topic | Funding Agency | Start Date | Period |
| --- | --- | --- | --- |
| Synthesis of porous polymeric coated granular Fe-Al oxyhydroxide adsorbent from natural clay (as PI) | SRIC IITR | 2014-01 | Ongoing |
| Solar Assisted Multi-effect Distillation System to Produce Drinking Water (as PI) | MHRD and Ministry of Urban Development | 2017-01 | Ongoing |
| Arsenic and other contaminants free drinking water production of ~20,000 L/day (as PI) | SERB and Industry | 2019-01 | Ongoing |
| Electrodialytic recovery of white liquor from green liquor to conserve energy (as Co-PI) | SERB | 2019-01 | Ongoing |
| Inspection of GPIs through Technical Institutions/ CPCB for Compliance verification of effluent disc | Central Pollution Control Board, India | 2019-01 | Ongoing |
| Design of Zero Discharge ETP Plant, KOTDWARA, India (as Co-PI) | Bharat Electronics Limited, KOTDWARA | 2018-01 | Ongoing |
Memberships

Indian Institute of Chemical Engineer, Life Member
American Chemical Society , Regular Annual Member
Teaching Engagements

| Title | Course Code | Class Name | Semester |
| --- | --- | --- | --- |
| Heat Transfer | PP-214 | 2nd Year PEM, PST, & PP, 3rd Year PST | Spring |
| Process Utilities & Cogeneration | IPP-01 | 4th Year PP | Autumn |
| Energy Technology | PE-253 | 2nd year PEM | Autumn |
| Chemical Engineering Thermodynamic | PEN -252 | PEM II Year | Spring |
| Materials and Energy Balance | PP-102 | I Year PEM and PST | Spring |
| Polymer Engineering Thermodynamics | PEN-201 | Polymer Science and Engineering | Autumn |
| Process Optimization | PEN-416&03 | PST IV Year and PEM III Year | Spring |
| Polymeric Membrane Technology | PEN-405 | Polymer Science and Engineering | Spring |
| Separation Processes | PPN-916 | PhD | Spring |
| Numerical methods | PEN-416 | Polymer Science and Engineering | Spring |
| Polymer Colloids | PEN-412 | Polymer Science and Engineering | Autumn |
| Pollution Control Engineering | PEM-352 | PEM IV Year | Autumn |
| Solid & Hazardous Waste Managment | CHN-512 | M.TECH IID (Chemical) | Spring |
PHDs Supervised

| Topic | Scholar Name | Status of PHD | Registration Date |
| --- | --- | --- | --- |
| Removal of Fluoride through Adsorption and Mixed Matrix Membrane | Mr. Mohit Chaudhary | O | 2014-01 |
| Bioremediation of Mixed Dyes and Heavy Metals from Contaminated Wastewater | Mr. Saurabh Mishra | O | 2015-01 |
| Oxidative and Enhanced Removal of Arsenic from Water | Mr.Nishant Jain | O | 2016-01 |
| Development of Hybrid Water Treatment System | Miss Shweta Rawat | O | 2017-01 |
| Application of Forward osmosis | Mr. Satish Singh | O | 2017-01 |
| Application of membrane in food processing | Aaditya Pandey | O | 2019-01 |
| Development of biochar from waste and its application | Prasant K. Singh | O | 2020-01 |
| Development of domestic air purification device using membrane technology | Abhishek Verma | O | 2020-01 |
Visits to outside institutions

| Institute Visited | Purpose of Visit | Date |
| --- | --- | --- |
| IIT Kharagpur | Joint research project | 2016-01-01 |
| Organizer BEEM 2018 and Korea University | To present paper in an International Conference on Bioresources, Energy, Environment, and Materials Technology (BEEM 2018), June 10 - 13, 2018, Gangwon Province, Korea and to meet faculty from Korea Unvirsity | 2018-01-01 |
| School of Environmental Sciences, Mahatma Gandhi University, Kottayam, Kerala | To present invited lecture in a international conference on Water: from pollution to purification, Dec, 7-10, 2018, School of Environmental Sciences, Mahatma Gandhi University, Kottayam, Kerala and discussion on future scope research collaboration | 2018-01-01 |
| IIT Guwahati | To attend the Conference CHEMCON-2015 and discussion on joint research projects | 2020-08-31 |
| University of Science, Penang, Malaysia, | To present conference paper in 5th International conference on Environment 2015, and discuss on research collaboration with faculty members University of Science, Malaysia | 2020-08-31 |
Invitations

| Topic | Organistaion | Date |
| --- | --- | --- |
| Future Scope of Forward Osmosis in Wastewater Treatment, Seawater Desalination, Recovery of Nutrients/Energy from Wastewater, and Concentrating Fruit Juices, International Conference on Water: From Pollution to Purification | Conference organizer ICW 2018 (Mahatma Gandhi University, Kottayam, Kerala) | 2018-01 |
| International Conference on Water: From pollution to Purification (ICW-2020) | webex platform | 2020-12 |
Special Lectures Delivered

| Title | Place | Date |
| --- | --- | --- |
| Organic matter in pulp & paper mill wastewater and produced water of oil extraction: Challenges and opportunities | Central Pulp & paper Research Institute, Saharanpur | 2015-01 |
Books Authored

Book:

[1] Sirshendu De and Abhijit Maiti, Arsenic Removal from Contaminated Groundwater using Laterite Based Adsorption Technique, TERI Publisher, 2010, ISBN-10: 81799338311, ISBN-13: 978-88179933831, New Delhi, India.

Book Chapter:

[2] Abhijit Maiti, Saurabh Mishra, Mohit Chaudhhary, Nanoscale Materials for Arsenic Removal From Water, Nanoscale Materilas in water Purification, Micro & Nano Technology, 2019, 707-733.

[3] Saurabh Mishra and Abhijit Maiti, Biological Methodologies for Treatment of Textile Wastewater. In: Singh R., Shukla P., Singh P. (eds) Environmental Processes and Management. Water Science and Technology Library, vol 91. Springer, Cham, 2020, 77-107.
Refereed Journal Papers

Patents:

[1] Subir Bhattacahrjee, Abhijit Maiti, Subhayan Guha Thakurta, David J. Pernitsky, Amir Mahmoudkhani, "Treatment of Blow-Down and Mine Tailings Streams", Canadian Patent Granted, Patent Number: CA2797530C, Dated: 29th September, 2015

[2] Abhijit Maiti, Sirshendu De, Jayanta Kumar Basu and Sunando DasGupta, "Modified laterite arsenic adsorbent for removing arsenic species and its manner of manufacture" Indian Patent Granted, Patent number: 285778 (Granted on August 2017).

[3] Abhijit Maiti and Nishant Jain, "An improved ferromanganese slag to oxidize arsenite and removal of arsenic from water."Indian Patent Granted, Patent number: 368154 (Granted on May 2021).

International Referred Journal Papers

[40] S. Rawat, and A. Maiti, Facile preparation of iron oxyhydroxide–biopolymer (Chitosan /Alginate) beads and their comparative insights into arsenic removal. Separation & Purification Technology 272 (2021) 118983. (IF:7.312) https://doi.org/10.1016/j.seppur.2021.118983

[39] M. Chaudhary, N. Jain, and A. Maiti, A comparative adsorption kinetic modeling of fluoride adsorption by nanoparticles and its polymeric nanocomposite. Journal Environmental Chemical Engineering 9 (5) (2021) 105595. (IF:5.909) https://doi.org/10.1016/j.jece.2021.105595

[38] S. Singh, C. Sharma, and A. Maiti, A comprehensive review of standalone and hybrid forward osmosis for water treatment: Membranes and recovery strategies of draw solutions. Journal Environmental Chemical Engineering 9 (4) 2021)105473. (IF:5.909) https://doi.org/10.1016/j.jece.2021.105473

[37] S. Mishra, L. Chend and A. Maiti, The utilization of agro-biomass/byproducts for effective bio-removal of dyes from dyeing wastewater: a comprehensive review, Journal Environmental Chemical Engineering 9(1) (2021) 104-109. (IF: 5.909) https://doi.org/10.1016/j.jece.2020.104901

[36] M. Chaudhury and A. Maiti, Fe–Al–Mn@chitosan based metal oxides blended cellulose acetate mixed matrix membrane for fluoride decontamination from water: Removal mechanisms and antibacterial behavior, J. Membrane Sci. 611 (2020) 118372. (IF: 8.742) https://doi.org/10.1016/j.memsci.2020.118372

[35] S. Mishra, P. Mohanty, and A. Maiti, Bacterial mediated bio-decolourization of wastewater containing mixed reactive dyes using Jack-fruit seed as co-substrate: Process optimization, J. Cleaner Production 235 (2019) 21-33. (Impact Factor: 9.297)

[34] M. Chaudhary, S. Rawat, N. Jain, A. Bhatnagar, A. Maiti, Chitosan-Fe-Al-Mn metal oxyhydroxides composite as highly efficient fluoride scavenger for aqueous medium, Polymer Carbohydrates 216 (2019) 140-148. (IF: 9.381)

https://doi.org/10.1016/j.carbpol.2019.04.028

[33] E. Daneshvar, M. Zarrinmehr, M. Kousha, A. M. Hashtjin, G. D. Saratale, A. Maiti, M. Vithanage, and A. Bhatnagar, Hexavalent chromium removal from water by microalgal-based materials: adsorption, desorption and recovery studies, Bioresource Technology, 293 (2019) 122064. (IF: 9.642) https://doi.org/10.1016/j.biortech.2019.122064.

[32] S. Mishra, J.K. Nayak, and A. Maiti, Bacteria‑mediated bio‑degradation of reactive azo dyes coupled with bio‑energy generation from model wastewater, Journal of Clean Technologies and Environmental Policy 22 (2020) 651–667. (IF: 3.636) DOI: 10.1007/s10098-020-01809-y.

[31] S. Mishra, and A. Maiti, Applicability of enzymes produced from different biotic species for biodegradation of textile dyes: a review, Journal of Clean Technologies and Environmental Policy 21(4) (2019) 763-781. (IF: 3.636)

[30] N. Jain, A. Maiti, Arsenic adsorbent derived from the ferromanganese slag, Environ. Sci. Pollu. Res. 28 (2021) 3230–3242. (IF: 4.223) https://doi.org/10.1007/s11356-020-10745-9

[29] S. Mishra, and A. Maiti, Study of simultaneous bioremediation of mixed reactive dyes and Cr(VI) containing wastewater through designed experiments, Environmental Monitoring and Assessment 191 ( 766. (IF: 2.513) (https://doi.org/10.1007/s10661-019-7976-0)

[28] S. Mishra, and A. Maiti, Process optimization for effective bio-decolourization of reactive orange 16 using chemometric methods, J. Environmental Science & Heath Part A:, 64(3) (2019) 179-192. (IF: 2.269). https://doi.org/10.1080/10934529.2018.1541383

[27] S. Mishra, and A. Maiti, Process Optimization for Effective Bio‐Decolourization of Methyl Orange by Pseudomonas aeruginosa 23N1 using Chemometric Methodology, The Canadian Journal of Chemical Engineering, 97(S1) (2019) 1340-1351. (IF: 2.007). DOI:10.1002/cjce.23410, 97(S1)

[26] S. Mishra, and A. Maiti, Optimization of process parameters to enhance the bio-decolourization of Reactive Red 21 by Pseudomonas aeruginosa 23N1, Int. J. Environ. Sci. Technol. 16 (2019) 6685-6698. (IF: 2.860) https://doi.org/10.1007/s13762-018-2023-1

[25] S. Mishra and A. Maiti Effectual bio-decolourization of anthraquinone dye reactive blue-19 containing wastewater by Bacilluscohnii LAP217: process optimization, Bioremediation Journal 24(1) (2020) 1-20, (IF: 1.909) DOI: 10.1080/10889868.2019.1671793

[24] M. Chaudhary, and A. Maiti, Defluoridation by highly efficient calcium hydroxide nanorods from synthetic and industrial wastewater, Colloids and Surfaces A: Physicochemical and Engineering Aspects 561 (2018), 79-88. (IF: 4.539) https://doi.org/10.1016/j.colsurfa.2018.10.052

[23] S. Mishra, and A, Maiti, The efficacy of bacterial species to decolourise reactive azo, anthroquinone and triphenylmethane dyes from wastewater: a review, Environ. Sci. Pollut. Res. 25(9) (2018) 8286-8314. (IF: 4.223). https://doi.org/10.1007/s11356-018-1273-2

[22] S. Mishra, and A, Maiti, The efficiency of Eichhornia crassipes in the removal of organic and inorganic pollutants from wastewater: a review, Environ. Sci. Pollut. Res. 24 (2017) 7921-7937. (IF: 4.223)

[21] M. Chaudhary, P. Bhattacharya, and A. Maiti, Synthesis of Iron Oxyhydroxide Nanoparticles and Its Application for Fluoride Removal from water, J. Environ. Chem. Engg. 4(4) (2016) 4897-4903. (IF:5.909)

[20] J. Fatema, S. Bhattacharjee, D. Pernitsky, and A. Maiti, Study of the Aggregation Behavior of Silica and Dissolved Organic Matter in Oil Sands Produced Water Using Taguchi Experimental Design, Energy & Fuels 29(11) (2015) 7465-7473. (IF: 3.605)

[19] S. G. Thakurta, A. Maiti, D. J. Pernitsky, S. Bhattacharjee, Dissolved organic matter in steam assisted gravity drainage blow-down water, Energy & Fuels 27 (2013) 3883–3890. (IF: 3.605)

[18] A. Maiti, B. K. Thakur, J. K. Basu, S. De, Comparison of treated laterite as arsenic adsorbent from different locations and performance of best filter under field conditions, Journal of Hazardous Materials 262 (2013) 1176-1186. (IF: 10.589)

[17] A. Maiti, M. Sadrzadeh, S. G. Thakurta, D. J. Pernitsky, S. Bhattacharjee, Characterization of boiler blowdown water from steam assisted gravity drainage and silica-organic co-precipitation during acidification and ultrafiltration, Energy & Fuels 26 (2012) 5604-5612. (IF: 3.605)

[16] V. B, A. Maiti, S. Bhattacharjee, S. De, Electric field assisted cross flow micellar enhanced ultrafiltration for removal of naphthenic acid, Separation Purification Technology 98 (2012) 36-45. (IF: 7.312)

[15] A. Maiti, J. K. Basu, S. De, Experimental and kinetic modeling of As(V) and As(III) adsorption on treated laterite using synthetic and contaminated groundwater: Effects of phosphate, silicate and carbonate ions. Chemical Engineering Journal 191 (2012) 1-12. (Impact factor: 13.273)

[14] A. Maiti, J. K. Basu, S. De, Fe-Al nano-oxide prepared by sol-gel method using precursor of HCl digested liquid fraction of laterite: Arsenic adsorption performance, International Journal of Nanoscience 10 (2011) 1173-117. (IF: 0.56)

[13] A. Maiti, J. K. Basu, S. De, Chemical treated laterite as promising fluoride adsorbent for aqueous system and kinetic modeling. Desalination 265 (2011) 28-36. (IF: 9.501)

[12] A. Maiti, J. K. Basu, S. De, Development of a treated laterite for arsenic adsorption: Effects of treatment parameters, Industrial & Engineering Chemistry Research 49 (2010) 4873-4886. (IF: 3.720)

[11] A. Maiti, J. K. Basu, S. De, Removal of arsenic from synthetic and natural groundwater using acid activated laterite, Environmental Progress and Energy Sustainability 29(4) (2010) 457-470. (IF: 2.431)

[10] A. Maiti, V. Agarwal, J. K. Basu, S. De, Removal of As(V) using iron oxide impregnated carbon prepared from tamarind hull, Journal of Environmental Science and Health, Part A:, 45(10) (2010) 1203-1212. (IF: 2.269)

[9] A. Maiti, J. K. Basu, S. De, Desorption kinetics and leaching study of arsenic from arsenite/arsenate-loaded natural laterte, International Journal of Environmental Technology and Management, 12 (2010) 294-304.

[8] A. Maiti, B. K. Thakur, J. K. Basu, S. De, Arsenic removal on treated laterite from contaminated groundwater, Arsenic in Geosphere and Human Diseases, As 2010 - 3rd International Congress: Arsenic in the Environment, (2010) 401-402.

[7] A. Maiti, H. Sharma, J. K. Basu, S. De, Modeling of arsenic adsorption kinetic of synthetic and contaminated groundwater on natural laterite, Journal of Hazardous Materials 172 (20009) 928-934. (IF: 10.588)

[6] A. Maiti, S. DasGupta, J. K. Basu, S. De, Batch and column study: Adsorption of arsenate using untreated laterite as adsorbent, Industrial & Engineering Chemistry Research 47 (2008) 1620-1629. (IF: 3.720)

[5] M. K. Purkait, A. Maiti, J. K. Basu, S. De, Removal of congo red using activated carbon and its regeneration, Journal of Hazardous Materials 145 (2007) 287-295. (IF: 10.588)

[4] A. Maiti, S. DasGupta, J. K. Basu, S. De, Adsorption of arsenite using natural laterite as adsorbent, Separation Purification. Technology 55 (2007) 350-359. (IF: 7.312)

Conferences/seminars/Workshop

Abhijit Maiti*, (invited talk) Future Scope of Forward Osmosis in Wastewater Treatment, Seawater Desalination, Recovery of Nutrients/Energy from Wastewaters, and Concentrating Fruit Juices, International Conference on Water: From Pollution to Purification (ICW 2018), Dec. 07-10, 2018, Kottayam, Kerala, India.
Vinod Kumar Jaiswar* and Abhijit Maiti, Multi-Effect Distillation Plant Design of Capacity 50 KL per day Distillate from Seawater, XII World Aqua Congress – International Conference 2018 Theme: Enhancing Water Use Efficiency, November 22-23, 2018, Habitat Centre, New Delhi, India.
Mohit Chaudhary, Nishant Jain, Shweta Rawat and Abhijit Maiti,* Hydrous Fe-Al-Mn Mixed-Oxide Loaded Chitosan Composite from Laterite to Remove Fluoride from Water, The 2nd International Conference on Bioresources, Energy, Environment, and Materials Technology (BEEM 2018), June 10 - 13, 2018, Gangwon Province, Korea.
Saurabh Mishra and Abhijit Maiti,* Bio-Decolourization of Mixed Reactive Azo Dyes and Reduction of Chromate from Wastewater by Pseudomonas Aeruginosa 23N1, The 2nd International Conference on Bioresources, Energy, Environment, and Materials Technology (BEEM 2018), June 10 - 13, 2018, Gangwon Province, Korea.
Saurabh Mishra* and Abhijit Maiti, Bio-decolourization of reactive blue-19 dye: process optimization using chemometric method. 71th Annual Session of Indian Institute of Chemical Engineers. CHEMCON–2018 "Seamless Chemical Engineering in Service of Humanity: Innovations, Opportunities & Challenges" at NIT Jalandhar on 27 – 30 December, 2018.
Shweta Rawat*, Mohit Chaudhary, Abhijit Maiti, Combined adsorption-ultrafiltration process for removal of arsenate and arsenite from water, the 6th IWA-regional membrane technology conference, 10-12 Dec 2018 organized by Indian Membrane Society & The Maharaja Sayajirao University of Baroda.
Mohit Chaudhary*, Shweta Rawat, Abhijit Maiti, Adsorptive removal of fluoride using Fe-Al-Mn@chitosan loaded mixed matrix membrane, the 6th IWA-regional membrane technology conference, 10-12 Dec 2018 organized by Indian Membrane Society & The Maharaja Sayajirao University of Baroda.
Saurabh Mishra* and Abhijit Maiti, Optimization of Reactive red 21 and Reactive Orange 16 Dye Decolourization by Pseudomonas aeruginosa 23N1 using Chemometric Method, BIOSANGAM-2018, Innovations and Translational Dimensions: Food, Health and Environmental Biotechnology, 9-10 March, 2018, NIT, Allahabad.
Vinod Kumar Jaiswar,* Kunal Chakraborty & Abhijit Maiti, odelling and Analysis of Multi-Effect Distillation Using Condensate to Preheat the Feed, ACS on Campus Workshop, 7th February, 2018 IIT Roorkee, Roorkee, India.
Nishant Jain* and Abhijit Maiti, Arsenic Scavenging Material Prepared from the Industrial By-product, ACS on Campus Workshop, 7th February, 2018, IIT Roorkee, Roorkee, India.
Mohit Chaudhary* and Abhijit Maiti, Cost Effective Methods to Scavenge Fluoride from Water, ACS on Campus Workshop, 7th February, 2018 IIT Roorkee, Roorkee, India.
Saurabh Mishra* and Abhijit Maiti, Optimized Bacteriological Decolourization of reactive Dyes from Wastewater, ACS on Campus Workshop, 7th February, 2018, IIT Roorkee, Roorkee, India.
Mohit Chaudhury, Nishant Jain* and Abhijit Maiti, Synthesis of Calcium Hydroxide Nanorods and Their Application for Fluoride Removal from Water, International conference on Water: From pollution to purification (ICW-2016), 12-15 December, Kottayam, Kerala, India.
Kunal Chakraborty*, Shruti Wasnik, and Abhijit Maiti (2016) Steady-State Modelling and Analysis of Multi-Effect Distillation Operated Desalination Plant, International conference on Water: From pollution to purification (ICW-2016), 12-15 December, Kottayam, Kerala, India.
Abhijit Maiti,* and Nishant Jain, Development of Low-cost Filter to Remove Arsenic and others Contaminants using Natural Materials. X World Aqua Congress – International Conference 2016 Theme: Water- Smart Solutions for Growing India , November 24-25, 2016, Habitat Centre, New Delhi, India.
Mohtada Sadrzadeh*, Abhijit Maiti, Ni Yang, Subir Bhattacharjee, & David Pernitsky, "Characterization of the scaling deposits on evaporator tubes of oil sands produced water treatment plant" in the conference International Desalination Association World Congress on Desalination & Water Reuse, August 30 to September 4, 2015, San Diego, CA, USA..
Pritha Bhattachaya and Abhijit Maiti*, Synthesis of iron oxy hydroxide nanoparticle and its application for fluoride removal from water. 5th International Conference on Environment-2015, Aug, 18-19, Penang, Malaysia.
Abhijit Maiti* and Subir Bhattacharjee, Effects of Dissolved Organic Fractions and Silica in OTSG Boiler Blow-down Water on Flux Behavior during Ultrafiltration, CHEMCON-2015, Dec, 27-30, Guwahati, India
Pritha Bhattacharya, M. Avinash, Mohit Chaudhary* and Abhijit Maiti, Nano Iron Oxy-hydroxide Polymeric Composite to Remove Lead and Fluoride from Water, CHEMCON-2015, Dec, 27-30, Guwahati, India.
Abhijit Maiti* (Invited talk), Organic matter in pulp & paper mill wastewater and produced water of oil extraction: Challenges and opportunities, 12th Feb, 2015, Central Pulp & paper Research Institute, Saharanpur, UP.
Abhijit Maiti*, S. Guha Thakurta, D. J. Pernitsky, A. Mahmoudkhani, S. Bhattacharjee, Minimizing SAGD boiler blow-down disposal volume by evaporation and acidification, Conference of Canadian Oil Sands Network for Research & Development, Edmonton, Canada, March, 2012.
Abhijit Maiti*, S. Guha Thakurta, D. J. Pernitsky, S. Bhattacharjee, Dissolved organic matter characterization of SAGD boiler blow down water using resin fractionation, membrane separation, and fluorescence excitation-emission mapping, Conference of Canadian Oil Sands Network for Research & Development, Edmonton, Canada, March, 2012.
Abhijit Maiti*, S. Guha Thakurta, D. J. Pernitsky, A. Mahmoudkhani, S. Bhattacharjee, Effects of pH on SAGD boiler blow-down and spectro-fluorescence analysis, Oilsands 2012, Edmonton, Canada, August, 28-30, 2012.
Abhijit Maiti*, Subir Bhattacharjee, Detection of organic matter and silica removal efficiency in evaporative and acid treatment processes for minimizing disposal water volume during in-situ thermal oil recovery. 61st Canadian Chemical Engineering Conference, London, Ontario, October, Canada, 2011.
Abhijit Maiti*, J. K. Basu, S. De, Fe-Al nano-oxyhydroxide synthesized by reverse-micellar route using HCl digested liquid fraction of laterite as precursor, International Conference on Fundamental & Applications of Nanoscience& Technology, Jadavpur University, India, December, 2010.
Abhijit Maiti*, Jayanta Kumar Basu and Sirshendu De, Oxide nanoparticles of iron and aluminium prepared by sol-gel method from liquid fraction of HCl treated laterite: Arsenic adsorption performance, International Conference Nanoscience & Technology, Indian Institute of Mumbai, Mumbai, India, February, 2010.
Abhijit Maiti*, Barun Kumar Thakur, Jayanta Kumar Basu and Sirshendu De, Arsenic removal on treated laterite from contaminated groundwater, International Congress on "Arsenic in geosphere and human Diseases" Taiwan AS2010, Taiwan, 2010.
Abhijit Maiti*, Jayanta Kumar Basu and Sirshendu De, Arsenic removal using natural laterite and treated laterite from synthetic and arsenic contaminated natural groundwater, Research Scholar Day, Chemical Engineering Department, IIT Kharagpur, Kharagpur, India, page-1, July, 2009.
Abhijit Maiti*, Jayanta Kumar Basu and Sirshendu De, Fluoride ion scavenging performance of a mesoporous adsorbent prepared from laterite: Comparative kinetic adsorption of fluoride with As(V) and lead ions, CHEMCON, Viskhapattanam, India, December, 2009.
Abhijit Maiti*, Jayanta Kumar Basu and Sirshendu De, Removal of Cr(VI) ion from aqueous solution using treated laterite as adsorbent, International Conference on Separation Processes, Institute of Technology, Banaras Hindu University, Chemical Engineering Department, India, September, 2009.
Abhijit Maiti*, Jayanta Kumar Basu and Sirshendu De, Synthesis and arsenic-scavenging performance of a mesoporous adsorbent from laterite, International Conference on Separation Processes, Institute of Technology, Banaras Hindu University, Chemical Engineering Department, India, September, 2009.
Ghanasyam. Malviya, Abhijit Maiti*, Sunando DasGupta, Jyanata Kumar Basu and Sirshendu De, Arsenic removal from real contaminated water using laterite, Young Reserachers' Conference, Institute of Chemical Technology, Mumbai, India, 2009.
Abhijit Maiti*, Jayanta Kumar Basu and Sirshendu De,Characteristics and arsenic removal capacity of acid activated laterite soil, A regional Conference on Chemical and Bimolecular Engineering, National University of Singapore, Singapore, page-37. 2008.
Abhijit Maiti*, Vaibhav Agarwal, Jyanta Kumar Basu, Biswajit Sarkar, Sunando DasGupta and Sirshendu De, Removal of arsenate from aqueous system by iron oxide impregnated activated carbon prepared from tamarind shell, CHEMCON, Kolkata, WestBengal, India, 2007.

* presenting author